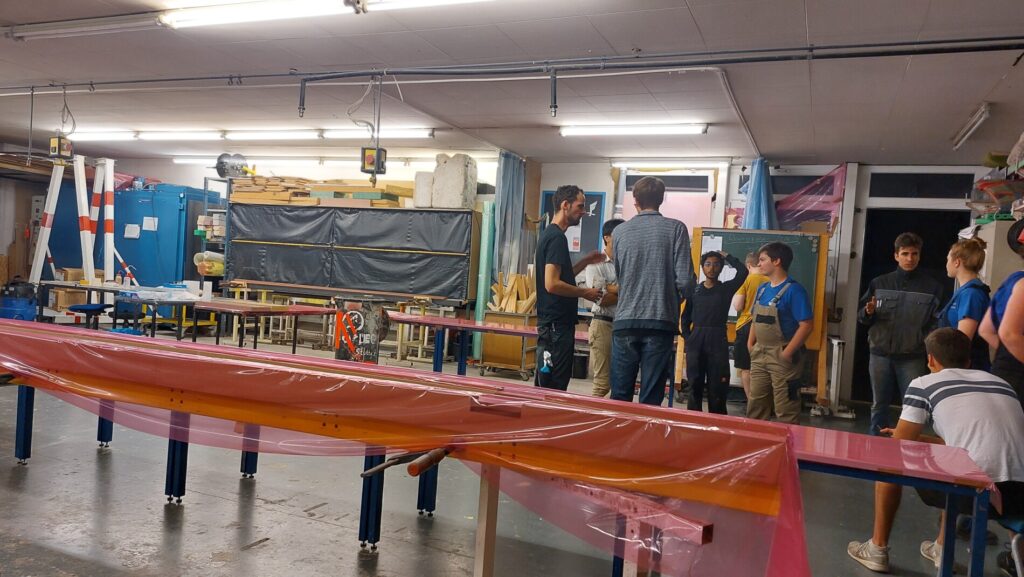 The lights are still on in our workshop as the hours of the warm summer night pass by; we're building an experimental wing spar and reaching the next small milestone in our fs36 project!
Many hours of planning and preparing the workshop have passed as we finally get to building the parts. However, before we start, we face a challenge: the heat of this summer. With constant daytime temperatures around 32°C, the resin will cure quickly, which will undoubtedly affect the quality of the end result. No problem! We will work at night.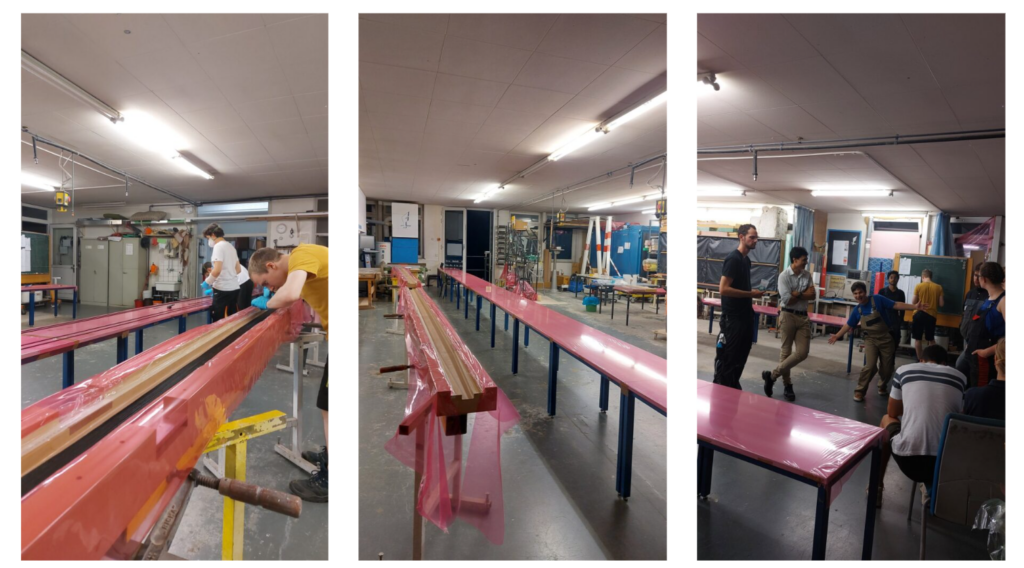 At 10 PM, the briefing takes place, and the heat still hangs heavily in the workshop. After everyone has been assigned their tasks, it's time to get started.
The resin mixers prepare the first batch of resin for the long night, and shortly after, the first carbon fibre roving is pulled. Tension fills the air; will everything work out? A few minutes later, it becomes clear that the homemade winch is performing excellently, and the winch, reminiscent of "Gimli," steadily pulls the resin-soaked roving through the workshop, inch by inch. After pulling, the long roving is cut to the exact required length and gets placed into the spar cap mold. Everything is going according to plan!

From the rovings, spar caps are manufactured for a spar breaking test. This test is intended to experimentally demonstrate the strength of the asymmetric spar cap design of our fs36. In the context of a project, extensive work was done in advance on the design, calculations, test planning, and manufacturing of this experiment.
The goal of this project was to provide the basis for the certification of an asymmetric spar for the fs36 prototype by the Federal Aviation Office (Luftfahrtbundesamt). The aim was to develop an understanding of the mechanisms at play in load-bearing spars with asymmetrically thick spar caps. To achieve this, the spar was designed using analytical calculations and the completed design was subjected to finite element analysis. For the experiment, only 3.5-meter-long spar segments are being built. The dihedral and wing incidence, as well as all the bends found in the current wing design, are not included for the sake of simplicity.
After building, test spars will be loaded in test fixtures until they break to validate the calculations. Molds have been made to manufacture test spars.
Meter by meter, the rovings are pulled through the workshop. As the hours of the night pass, not only does the thickness of the spar caps in their molds increase, but so does our caffeine consumption.
The sun has long since risen, and the first morning lectures have already started when the last roving is finally placed in the mold. With that, we have achieved another small milestone in the construction of our fs36.
After a successful night and several meters of roving, a well-deserved breakfast is shared in the workshop while the spars harden.